Photography Workshops in Los Angeles, CA, Covering Many Topics
Photography is a vehicle for preserving memories and capturing life's most precious moments. It is also a tool that can leave an impact on society and the culture at large. Such a powerful medium celebrates, informs, and inspires. By harnessing the power of photography, you do more than take pictures--you also reveal the world and its wonders.
Now, you can add this skill to your repertoire. Roberto Valenzuela Photography hosts photography workshops in Los Angeles, CA. By attending classes hosted by a professional, you will learn how to improve your craft and begin refining your abilities.
Covering Many Subjects at the Professional Level
Photography has many uses, and it is in high demand across many fields. Learn the essentials and take your career further. Robert's photography workshops cover a wide variety of topics, including lighting and editing, posing, and storytelling. These classes are highly accessible and can introduce you to new dimensions of your craft. Robert's presentation style is informative and to-the-point, all without sacrificing the creative energy that drives the medium.
Classes are hosted throughout the year at different locations. Since class sizes are limited, it is highly recommended to reserve your spot in a class as soon as possible. Contact Robert Valenzuela Photography to learn more about upcoming classes and photography workshop topics.
Hosting Photography Workshops in Los Angeles, CA
Photography is a field which synthesizes artistic theory and practice to create beautiful images. Learn essential techniques and brush up on your skillset with the help of Roberto Valenzulea. He hosts photography workshops in Los Angeles, CA, that will help you build a solid foundation.

Roberto's modus operandi revolves around framing photography subjects from life. His workshops teach styles that prevent those in the lens from looking stiff, contrived, or fake. By attending his posing workshops, you will gain insight into the creative process, and how you can incorporate those skills into your pieces.

Roberto has extensive experience as a professional photographer. His wealth of experience includes creating photographs for weddings, families, class photos, maternity, fashion, and sports. As such, Roberto draws from a wealth of knowledge and scenarios, creating a workshop that is as practical as it is enlightening.
Books
In addition to my workshop education offerings, I'm the author of four best-selling books on photography.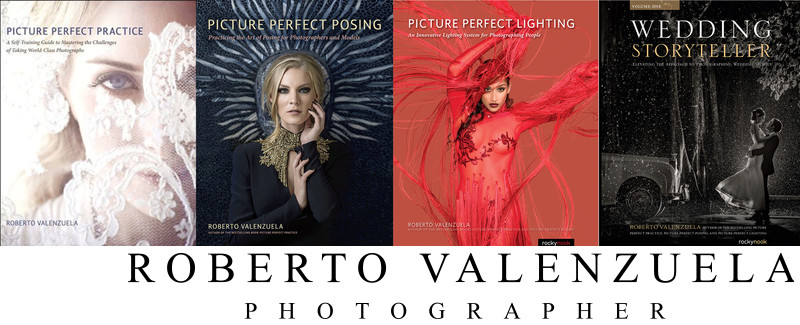 Picture Perfect Practice
My first book, Picture Perfect Practice, is a book dedicated to teaching photographers how to harness the maximum potential of any location.


In addition to teaching composition, this book helps readers understand how to improve technique to ensure mastery.


Picture Perfect Practice has been translated into 5 languages and is the #1 selling book in the Wedding Photography category on Amazon.com.
Buy Picture Perfect Practice Today
Picture Perfect Posing
My second book, Picture Perfect Posing, helps photographers understand posing by exploring how the body works, the energy it shares, and subject body language.


This book teaches the reader how to build a pose that communicates a desired message to viewers.


Picture Perfect Posing is the #1 selling book in the Posing category on Amazon.com.
Buy Picture Perfect Posing Today
Picture Perfect Lighting
My third book is Picture Perfect Lighting.


My publisher Rocky Nook describes this book with the following language
"In Picture Perfect Lighting, Roberto has created a truly original system for understanding and controlling light in photography.



After discussing the universal nature of light, Roberto introduces the five key behaviors of light, which are essential to understand in order to improve your knowledge of light.



With those behaviors established, Roberto introduces his concept of "circumstantial light," an ingenious way of examining and breaking down the light around you in any given situation.



Providing a detailed analysis of circumstantial light, Roberto develops the top ten circumstantial light elements you need to know in order to fully harness the power of the light around you to create an image that is true to your vision."
This book is currently the No. #1 New Release on Photographic Lighting books on Amazon.


Buy Picture Perfect Lighting Today
Wedding Storyteller Volume 1
My latest book is Wedding Storyteller Vol. 1.


This book includes the Wedding Storyteller Skills Components to help readers become highly skilled an versatile visual storytellers.


Buy Wedding Storyteller Vol 1 Today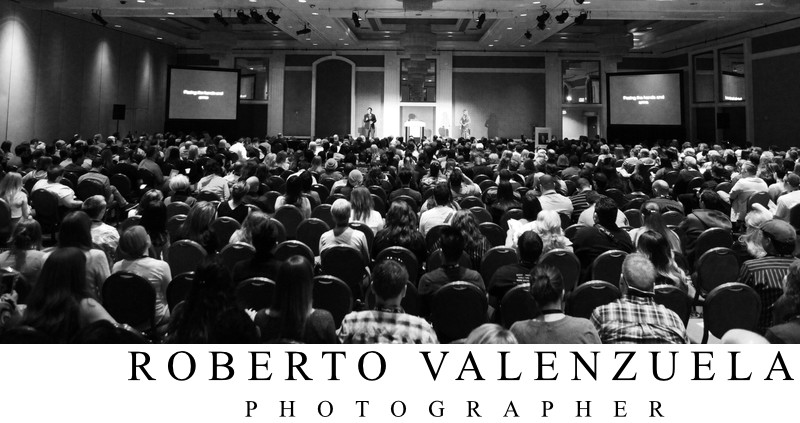 Educational Videos and Online Learning
Technology brings people together. Roberto empowers students to learn photography virtually anywhere they feel comfortable. His video series includes a variety of lessons, with an emphasis on capturing natural moments during special occasions. One such course is Wedding Evolutions, which details a photographer's creative process and execution during a wedding.

Another option for budding photographers to explore is Roberto's Creative Live courses. The content in these videos includes information on posing, lighting, and much more. It is framed much like a live photography lesson and provides keen insights on how to think and work like a photographer in a high-energy setting.

Roberto's photography lessons are available in a variety of formats, and in-person workshops are forthcoming. Contact him to learn about workshop dates or to request more information about classes.